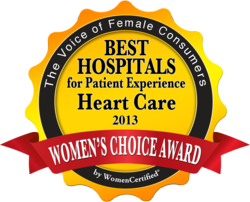 20 Feb

Women's Choice Award: Kansas Medical Center Is Top for Patient Experience in Heart Health
Selection of Kansas Medical Center on list of "Best Hospitals for Patient Experience in Heart Care" is based on women's preferences, recommendation rating and clinical excellence.
Kansas Medical Center received the Women's Choice Award from WomenCertified® distinguishing it as one of the 2013 Best Hospitals for Patient Experience in Heart Care. The award is based on robust criteria that include female patient satisfaction measurements as well as clinical excellence considerations. WomenCertified represents the collective voice of female consumers and is a trusted referral source for top businesses and brands identified as meeting the needs and preferences of women.
"We are thrilled to be recognized as a Women's Choice Award winner. Patient care is a central theme of our organization," said Dr. Badr Idbeis, CEO of Kansas Medical Center, "and we constantly strive to provide our patients with care that goes well beyond what they expect."
Women make or influence more than 90 percent of health care decisions for themselves and their families, according to a study published by the American Academy of Family Physicians. "Kansas Medical Center selection by WomenCertified as one of the Best Hospitals for Patient Experience in Heart Care differentiates it from other choices in the area," explains Delia Passi, CEO and founder of WomenCertified, and former publisher of Working Woman and Working Mother magazines. "Women have many choices when it comes to heart care and they set the standard for customer service. Women's Choice Award recipients have demonstrated extraordinary service in meeting the needs of women and their families, and represent the smart choice for women."
Hospitals qualify for this highly selective annual list based on an in-depth proprietary scoring process. The scoring incorporates a national, standardized survey of patients' perspectives of hospital care reported by the U.S. Department of Health and Human Services (Hospital Consumer Assessment of Healthcare Providers and Systems) and an analysis that weighs criteria identified as the most important to women for patient satisfaction. Additionally, the scoring incorporates WomenCertified's in-depth research on customer satisfaction among women, including a joint study on customer satisfaction by gender conducted with the Wharton School of the University of Pennsylvania. Hospitals were also screened based on clinical criteria.
"Recognizing the best hospitals for heart care nationwide that are women-friendly and align with women's identified preferences is important to our mission at WomenCertified, where women help other women with tough, consumer decisions," Passi concludes. "Most importantly, when a woman sees the Women's Choice Award at her local hospital, she'll know the hospital values her experience as a critical component of her and her loved one's care."
About Kansas Medical Center
Founded in 2006 Kansas Medical Center is a full-service 58-bed, general acute-care hospital. Kansas Medical Center offers a full range of services including cardiovascular, orthopedics, gynecology, urology, ENT, general medicine, and a 24/7 emergency room. KMC is also one of the few hospitals in the nation to offer da Vinci Robotic open heart surgery. For 4 years running, Kansas Medical Center has been ranked by Health Grades in the top 5% nationally for patient satisfaction. Learn more about KMC at https://www.ksmedcenter.com
About WomenCertified®
WomenCertified®, the voice of female consumers, awards businesses and brands based on consumer experience. WomenCertified represents the collective voice of women so they can help each other identify businesses that deserve our loyalty and referrals. WomenCertified awards businesses and brands that meet a higher standard of customer experience the Women's Choice Award. The Award is based on surveys of tens of thousands of women, as well as research conducted in partnership with the Wharton School of the University of Pennsylvania on what drives the consumer experience for women vs. men, which led to the development of the Female Consumer Satisfaction Index. Visit https://www.womencertified.com
Andover, KS (PRWEB)