28 Jul

Now Hiring for Physical Therapist Position
Kansas Medical Center is looking for outstanding individuals to join our team! We currently are looking to hire a Physical Therapist
This position will predominantly work with inpatient individuals but must have flexibility to work with outpatient individuals as well. Make a turning point in your career when you join the team of professionals at KMC.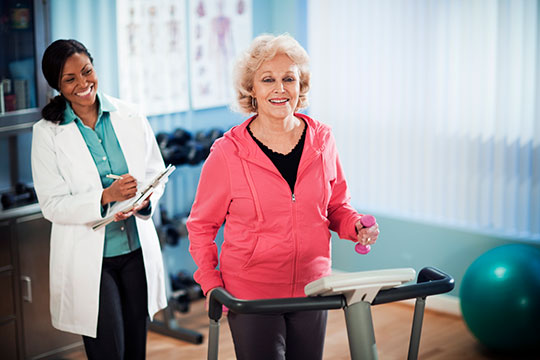 Position Description:
This individual will predominantly work with inpatient individuals but must have flexibility to work with outpatient as well.
ESSENTIAL JOB FUNCTIONS:
Plan, prepare and carry out individually designed programs of physical treatment to maintain, improve or restore physical functioning, alleviate pain and prevent physical dysfunction in patients while ensuring prescribed treatment standards and procedures are followed.
Perform and document an initial exam, assess the gather information to identify problems and determine a diagnosis prior to intervention. Confer with the patient, healthcare providers, family members and appropriate others to plan, implement and assess the intervention program.
Accurately document prognosis, treatment, response, and progress in patient's chart. Use gathered data to evaluate results and modify treatment plan as needed. Assess and monitor patient's condition and response during treatment and make necessary adjustments to the equipment in response to patient needs and physician instructions.
Set up, operate, clean, and sterilize therapy equipment according to accepted standards and procedures.
Provide educational information about physical therapy and physical therapists, injury prevention, ergonomics and ways to promote health.
Actively participate on appropriate committees and Performance Improvement activities.
Flexibility to perform other duties as assigned.
Shift/Status:
Full-time
Position Requirements:
Location: Andover, KS
Licensure/Certifications: Must maintain a Physical Therapist license in the state Kansas. Must maintain current Basic Life Support (BLS) certification. Experience:  2-3 years' experience preferred but not required. Education/Training:  Graduate of a registered Physical Therapy school.
Knowledge/Skills:
Ability to remain flexible in order to work with patients who are both inpatient and outpatient in order to ensure that Kansas Medical Center is providing stellar care to our patients.
Must demonstrate a commitment to service, organizational values and professionalism through appropriate conduct and demeanor at all times.
Strong interpersonal skills and ability to interact effectively with patients and their family members, as well as providers, in order to develop and maintain strong relationships with the ability to communicate and collaborate effectively.
Must be able to read, write and speak English fluently, have cognitive skills for math, reading, filing and sterile technique skills.
Physical Requirements:  The employee works in a temperature-controlled environment.  Communication skills to deal well with employees, patients, families and physicians.  Vision for near, mid-range, far and accommodation.  Hearing for low, medium, and high pitch.  Job requires physical ability for long term standing, occasional sitting, crouching, kneeling, frequent walking, reaching with reaching above head and below waist.  Job risk include exposure to blood and body fluids (high), contact with chemicals, lifting of 40 – 70 pounds and exposure to infectious disease.
Apply now! https://bit.ly/2axOTf6