05 Oct

A Matter of Ownership
Physician-owned hospital dispute continues locally
Kansas Medical Center marked its one-year anniversary this week with a business-as-usual attitude.
Nothing at the Andover facility had changed — patient welfare is still the standard, says CEO Badr Idbeis from its debut to day No. 365.
Meanwhile, in the center of town, at Wesley Medical Center, the city's second largest health care
provider with 862 hospital beds, serving Wichitans since 1912, the primary objective is much the same as that of Kansas Medical Center.
"Providing quality health care will never stop," says Sam Serrill, the CFO at Wesley.
Each has the best interest of the patients at heart, but that's where the similarities end.
Take a closer look at the two facilities and they couldn't be more different, particularly in the way they arerun.
Wesley is owned by Nashville-based HCA Inc., which operates 170 acute care hospitals in the United
States and abroad and has more than 40,000 beds.
Kansas Medical Center is owned by Idbeis and a small group of physicians. Its management team, with the exception of a CFO, consists of practicing physicians. In fact, when Idbeis decides to stop practicing medicine, hospital bylaws dictate he must also step down as CEO.
Like it or not — and there is plenty of opposition out there regarding doctors running their own show
physician-owned hospitals are here to stay, says Matt Lillie, who is building the first one on Wichita's west side.
"It used to be the doctors were in charge of hospitals," Lillie says. "When big business took over, it became more of an industry. Doctors were squeezed out of management. No one has the patients' interests more at heart than doctors."
Via Christi Wichita Health System
, the state's largest nonprofit health network, countered Lillie's announcement last month by unveiling plans for a 72-bed hospital on the west side of town.
That two hospitals will reside within six miles of each other only adds fuel to an issue that has gathered steam nationwide in recent years.
A Conflict of Interest?
For years, critics have complained that when doctors invest in hospitals, conflicts of interest arise that could put financial gain ahead of the patients' well being, while also threatening the survival of general hospitals.
Idbeis says a federal government study shows that there is no evidence that cities with physician-owned
hospitals pose any threat to acute-care facilities.
"The negative impact on other hospitals in a community is nonexistent. The government MedPac study confirmed that," Idbeis says. "That's the rallying cry. 'You're going to kill the (acute-care) hospitals.' Well, that hasn't happened. To the contrary, their revenue has gone up and they are buying the physician-owned hospitals they so resent."
Both Via Christi and Wesley have ruled the health care landscape for years. Combined, they control more
than 82 percent of Wichita's hospital beds and if Via Christi's expansion to the west is any indication continue to grow.
"Competition in health care, you'd think, would be based around the provisions of quality and the cost of care," Larry Schumacher, Via Christi's CEO, told the Wichita Business Journal during a summertime
roundtable discussion. "To some degree, that is … between the two larger organizations. But you have the self-referral concept that also fits into the specialty hospitals, which does change things."
The federal government stepped in more than a decade ago and adopted the laws to try to proactively
resolve the self-referral issues, which Serrill calls a legitimate concern.
"Self-referral could create a conflict of interest," Serrill says. "… A physician who has ownership in a hospital has a financial gain."
In 1989, Congress enacted the Stark Law, which governs physician self-referral for Medicare and Medicaid patients. The bill has been re-enacted two other times and Stark III has been extended to March 26, 2008.
However, Serrill says the hospitals want to see all possible loopholes in the law closed to prevent doctors from taking advantage of their patients.
Idbeis questions the difference between a doctor having ownership in a hospital and a hospital offering a private practitioner a title or place on its staff.
"What about doctors employed by a hospital or given a paid appointment?" he asked. "Well, think about
the doctor who took that appointment. Where is he going to send his patient? He took their money. He has to send his patients there."
Reducing the Bureaucracy
Financial structure aside, proponents say the real reason the physician-owned model works is because the people making the decisions on a patient's well being are medical professionals, not, administrators, whose chief concern is the bottom line.
"I am in the trenches every single day," Idbeis says. "As the CEO, I see Mrs. Jones needing help first hand. There is no way I can deny it. If I don't see Mrs. Jones and somebody reports to somebody else, by the time it gets to me, it's totally dehumanized. There is nothing like touching base with your constituents every single day. There's nothing like it."
That in a nutshell, is the issue.
Many doctors believe that by having so many levels of management, bigger hospitals have created a bureaucracy that is not best for patients.
"As you become so large, you start to lose sight and sensitivity of what your basic purpose is," says Dr. Greg Lakin, one of the partners in Lillie's Westside hospital, which will be located on Maize Road, just north of Kellogg. "The administration is so far removed from basic patient care because there are so many tiers."
Serrill says every effort is made at Wesley to minimize the bureaucratic rhetoric that all organizations both big and small have to encounter.
"Every organization is a bureaucracy," he says. "The minute you have two people you have a bureaucracy.
We have an organized staff as every hospital has. We do everything possible to minimize the bureaucracies that will hinder how we operate."
Still, with so many levels of management from patient to decision maker, Idbeis says there is a real
concern that communication breakdowns will occur.
"The legacy hospital is a dinosaur," he says. "You have someone on top, then you have an assistant to the person on the top, then an assistant to the assistant and assistant to that assistant.
"Same thing on the floor, you have a director of nursing and there are supervisors and there are directors of department and there are managers of each section. There are multiple layers. It's like a telephone game. By the time the message gets to the other side, it doesn't resemble the original conversation."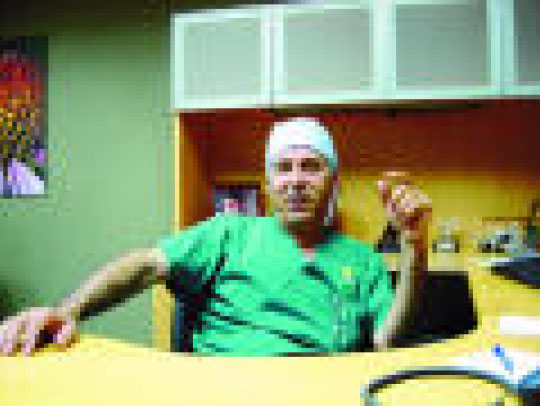 Pat Sangimino / WBJ
Badr Idbeis, CEO of Kansas Medical Center in Andover, says there is no proof that physician-owned hospitals have an adverse impact on community hospitals.
The physician-owned hospital planned for west Wichita will partner with Andover's Kansas Medical Center and will be managed by Cardiovascular Hospital of America LLC both of which are run by Badr Idbeis.
"The relationship is going to include an equity position for CHA as well as KMC in the west side hospital," Idbeis confirmed Tuesday in a written statement.
Idbeis was introduced to about 60 potential shareholders of the $24 million hospital Tuesday at the Airport Hilton.
"It will be a sister (facility) to Kansas Medical Center," says developer Matt Lillie, adding that the news of Idbeis' involvement in the new hospital was met positively.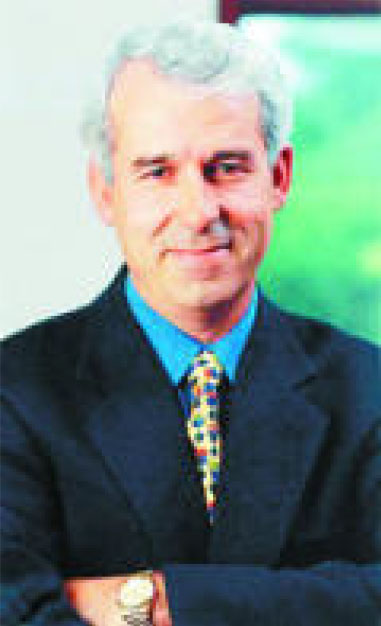 Kansas Medical Center and Cardiovascular Hospital of America LLC, both owned by Badr Idbeis, above, will partner with developer Matt Lillie's physician-owned hospital planned for west Wichita.
Wichita Business Journal – by Pat Sangimino