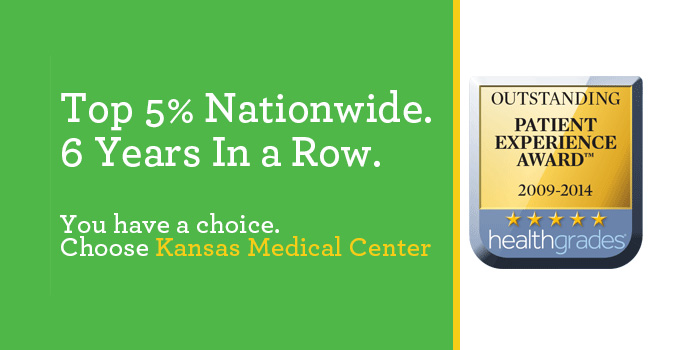 24 May

Kansas Medical Center in top 5% nationally for patient experience
HealthGrades Study: 80% of patients treated at best-performing hospitals would definitely recommend them to friends, family
Andover, KS (May 22, 2012) – Kansas Medical Center today was named a recipient of the 2012
HealthGrades Outstanding Patient Experience Award™. This distinction ranks Kansas Medical Center among the top 5% of hospitals nationwide based on an analysis of patient satisfaction data for 3,837 U.S. hospitals by HealthGrades, the leading provider of information to help consumers make an
informed decision about a physician or hospital. Kansas Medical Center has achieved a Top 5% ranking each of the last 4 years.
According to HealthGrades, 80% of patients treated at the nation's best-performing hospitals would definitely recommend the hospital compared to only 53% of patients who received care from the poorest- performing hospitals.
"We are very excited to be receiving this award for the fourth year in a row," said Dr. Badr Idbeis, CEO and Chief of Surgery at Kansas Medical Center. "We strive to provide our patients with the best care and experience possible. We understand that people do not wish to spend time in the hospital so we
make every effort conceivable to make their stay as comfortable and as pleasant as can be. It's nice to know we are on the right track."
To designate its 2012 Outstanding Patient Experience Award recipients, HealthGrades analyzed HCAHPS (Hospital Consumer Assessment of Healthcare Providers and Systems) hospital survey data obtained from the Centers for Medicare and Medicaid Services (CMS), from April 2010 to March 2011.
HealthGrades identified 332 hospitals performing in the top 5% in the nation for patient satisfaction, based on survey responses from patients treated at those facilities. Hospitals had to meet bed size, survey-response size, and clinical-quality thresholds in order to be eligible for the award. Information on award recipients and the ratings methodology is available, free to the public, at HealthGrades.com. "This year HealthGrades paid particular attention to the impact that patient-provider communication has on patient experience. For example, we found that 27% more patients of the top-performing hospitals reported staff always explained their medications before administering them, compared to hospitals in the bottom 5%," said Kristin Reed, MPH, HealthGrades Vice President of hospital quality programs and author of the study. "Communication is clearly an important factor for patient satisfaction, but it can also be critical to ensuring positive outcomes. We commend hospitals like Kansas Medical Center for setting the standard for outstanding patient experience."
When compared to hospitals performing in the bottom 5% for patient satisfaction, HealthGrades Outstanding Patient Experience Award recipient hospitals are attributed with the following:
50% more patients gave the hospital an overall rating of a 9 or a 10 (10 being the highest possible)
38% more patients responded that they always received help from staff quickly
23% more patients reported their nurses always communicated well
21% more patients felt their pain was always well controlled
14% more patients reported their doctors always communicated well
About Kansas Medical Center
Founded in 2006 Kansas Medical Center is a full-service 58-bed, general acute-care hospital. Kansas Medical
Center offers a full range of services including cardiovascular, orthopedics, gynecology, urology, ENT, general medicine, and a 24/7 emergency room. For 4 years running, Kansas Medical Center has been ranked by Health Grades in the top 5% nationally for patient satisfaction. Learn more about KMC at www.ksmedcenter.com
Augusta Gazette