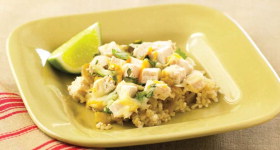 Layered Mexican Casserole
Serves: 4; 1 cup per serving
Description

A spritz of fresh lime juice is the perfect finishing touch to this casserole, which is a handy way for using up leftover chicken breasts. If you don't have any of those in your refrigerator or freezer, see the Cook's Tip at the end of the recipe for a quick way to prepare some.
Ingredients
1 10-ounce package frozen brown rice
1 teaspoon ground cumin
1 tablespoon olive oil
1 4-ounce can chopped green chiles, undrained
1/4 cup snipped fresh cilantro
1 1/2 cups cubed cooked skinless chicken breasts, cooked without salt (about 7 1/2 ounces cooked)
1/2 cup reduced-fat shredded Mexican-blend cheese
1 medium lime, quartered
Cooking Instructions
Preheat the oven to 350°F.
Prepare the rice using the package directions. Spread in an 8-inch square baking pan. Stir in the cumin. Drizzle with the oil. Using the back of a spoon, smooth the surface. Spoon the chiles over the mixture. Top, in order, with the cilantro, chicken, and cheese. Cover with aluminum foil.
Bake for 15 minutes, or until the cheese melts.
Serve with the lime wedges.
Cook's Tip
For quickly cooked chicken, discard all the visible fat from 10 ounces of skinless, boneless chicken breasts and cut the chicken into bite-size pieces. Heat a small skillet over medium-high heat until hot. Remove the skillet from the burner and lightly spray with cooking spray (keeping far from a gas flame). Cook the chicken for 3 to 4 minutes, or until no longer pink in the center, stirring constantly.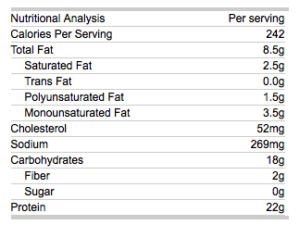 Leave a reply