Fast, Healthy Black Bean Recipes
Packed with fiber, protein, calcium, potassium, and antioxidants, black beans are one of nature's healthiest ingredients – and they're not just for Mexican night. Lucky for us, they're easy to keep on hand in canned form, for almost-instant – and nutritious – gratification.
Healthy tip: Many brands of canned beans contain sodium. To cut back on salt, look for low-sodium varieties, and season your food yourself.
Start with one 15-ounce can black beans, rinsed and drained, and try the following recipes.
Cumin-Scented Black Bean Dip
Serves 4 as an appetizer.
In a food processor, whirl beans, 3 Tbsp. olive oil, 1/2 cup plain, low-fat yogurt, 1/2 tsp. ground cumin, and 1/4 tsp. granulated garlic until smooth. Season to taste with salt and pepper, and serve with carrot sticks, cucumber slices, or pita chips.
Chipotle Black Bean Soup
Makes 2 small servings.
Saute 1/2 small yellow onion (chopped) in 2 tsp. olive oil over medium-low heat until soft. Add beans, 1 smashed garlic clove, 2 cups chicken or vegetable broth, 1/4 to 1/2 tsp. chipotle chili powder (to taste) and a handful of baby carrots. Simmer 10 minutes, or until carrots are soft, and then puree. Season with salt and pepper.

Black Bean and Corn Tacos

Combine beans and 1/2 cup chunky corn salsa in a small saucepan. Bring to a simmer, and then serve in warmed tortillas, over baby spinach, topped with chopped avocado and a pinch of shredded cheese.
Maple-Baked Black Beans
Serves 2.
In a small baking dish, stir beans (with liquid) together with 1 Tbsp. unsalted butter (cut into four  pieces) and T Tbsp. real maple syrup. Bake for 1 hour at 350 degrees F, stirring once halfway. Then serve as a side dish or on toast for breakfast.
Black Bean Salad With Quinoa, Squash and Lime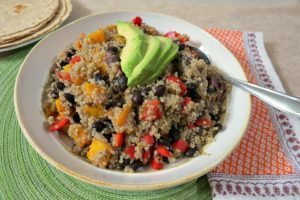 Serves 2 for lunch. 
Simmer 1/4 cup dried quinoa, 1 cup chopped butternut squash, and 1/2 cup plus 2 Tbsp. water together for 15 minutes, partially covered, until the squash is cooked through and water is absorbed. Stir in beans, 1/4 cup crumbled feta cheese and 2 Tbsp. chopped fresh cilantro. Season with salt and pepper. Then drizzle with lime juice and olive oil.
Leave a reply