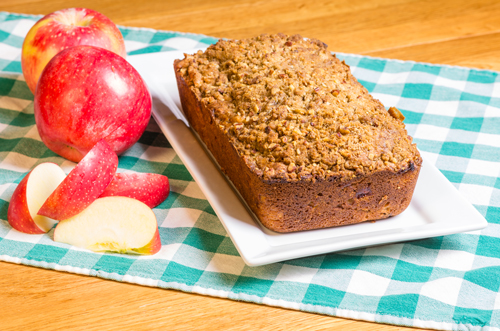 Want tasty bread with one-third less fat than typical loafs? This recipe uses rosemary, an herb that can soothe muscles and possibly boost long-term memory. With only 95 calories per slice, there's no guilt in eating this delicious bread.
Ingredients
3 cups all-purpose flour, divided
1 1/4 teaspoons salt
1 teaspoon finely chopped fresh rosemary
1 package quick-rise yeast (about 2 1/4 teaspoons)
1 cup warm water (100° to 110°)
1 cup diced peeled Granny Smith apple (about 1 small)
Cooking spray
2 teaspoons butter, melted
Preparation
Lightly spoon flour into dry measuring cups; level with a knife. Combine 2 3/4 cups flour, salt, rosemary, and yeast in a large bowl, stirring with a whisk. Add water, stirring until a soft dough forms. Turn dough out onto a floured surface. Knead until smooth and elastic (about 8 minutes); add enough of remaining flour, 1 tablespoon at a time, to prevent dough from sticking to hands. Cover and let rest 5 minutes. Knead in apple. Place the dough in a large bowl coated with cooking spray, turning to coat top. Cover and let rest 10 minutes.
Preheat oven to 375°.
Shape dough into a loaf; place dough in an 8 1/2 x 4 1/2-inch loaf pan coated with cooking spray. Gently press dough into pan; cover. Let rise in a warm place (85°), free from drafts, 30 minutes or until doubled in size.
Bake at 375° for 45 minutes or until bread is lightly browned and sounds hollow when tapped. Brush top with butter. Cool in pan 5 minutes. Remove from pan, and cool completely on a wire rack.
Leave a reply